Camp Staff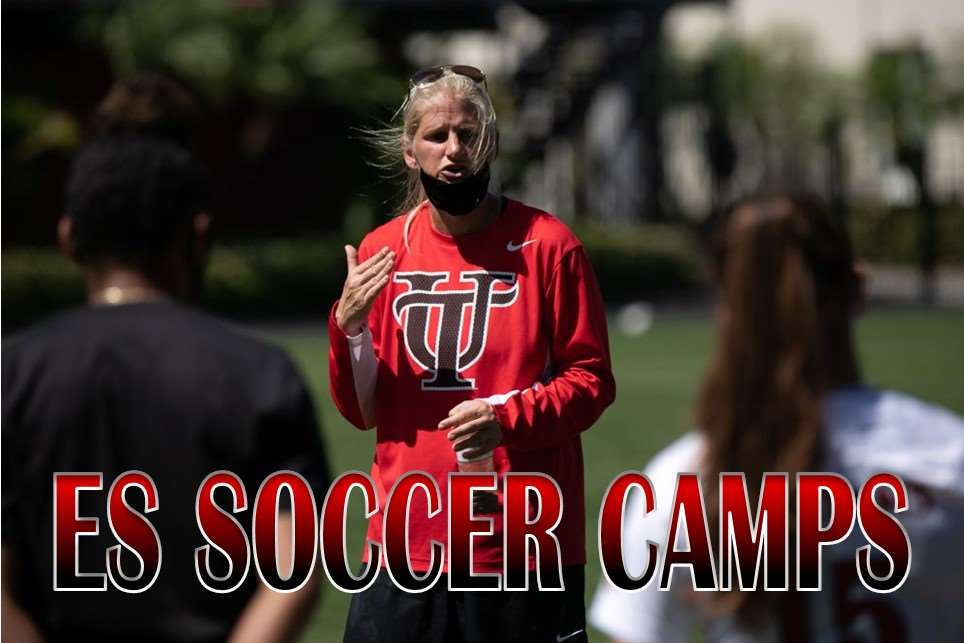 Head Coach
Erin Switalski
Erin Switalski is entering her fouth season as the University of Tampa women's soccer head coach. Switalski is the fifth coach in the program's history and has over 10 years of college coaching experience.

In her first season at Tampa, Switalski guided the program to a 13-5-5 overall record and 5-2-1 in Sunshine State Conference play. After being picked to finish fifth in the preseason coaches' poll, the Spartans ended up in third place, just one win behind top-ranked Barry and even with Nova Southeastern. Under Switalski, UT finished runner-up in the SSC Tournament after falling to Barry in Miami Shores, Fla by a 2-1 final score in overtime. Tampa earned the No. 3 seed in the South region of the NCAA Tournament and won their first two games in the tournament against Lee University and North Alabama to make it to the regional final where they faced off again against conference opponent Barry and fell by the minimal margin of 1-0.

Switalski previously spent five seasons as an assistant coach on the Florida Gulf Coast University women's soccer staff. Switalski's role with the Eagles involved assisting in all aspects of program management. She designed and implemented coaching and training strategies to enhance and maximize the overall success of the program while focusing on goalkeeper specific training. Switalski also coordinated the program's overall recruiting strategy of prospective student-athletes both domestically and abroad. She was also charged with the academic success of the team, who carried a 3.5 cumulative GPA. Additionally, she coordinated travel and maintained budgetary responsibilities.
In 2014, Switalski was part of an FGCU team that went 17-4 and won the Atlantic Sun championship. The Eagles would advance to the NCAA tournament, where they fell to Auburn in the first round. The record-shattering season included a program-record 17 wins. After dropping a 2-0 result to No. 16 South Carolina on Sept. 14 on a neutral field, the Eagles won a program-record 13 consecutive matches, outscoring their opponents 36-6 with seven shutouts, including a 15-2 advantage against A-Sun competition during the regular season.
By the end of her fourth season, the numbers from the 2013 campaign would suggest that it was the greatest season offensively in FGCU women's soccer history. The Eagles set program single-season records in points (130), goals (43), shots (384), shots per game (19.20), shots on goal (180) and shots on goal per game (9.00). The Eagles compiled a 13-3-4 record and went 7-0-2 in the Atlantic Sun to earn a fourth-consecutive Regular Season Championship.
In her third season with FGCU, Switalski worked with freshmen Brittany Brown who allowed only 13 goals in 21 appearances while posting 9 shutouts and a 0.65 Goals Against Average. Overall, the team captured their third consecutive Atlantic Sun Regular Season Championship and second consecutive Atlantic Sun Tournament Championship and NCAA Tournament appearance. The program also saw its highest NCAA RPI ranking in school history, finishing the season ranked 53rd out of 327 teams.
In her second season with FGCU, Switalski worked with Atlantic Sun Defensive Player of the Year and All-Conference First-Team goalkeeper Stephanie Powers who, along with A-Sun First-Team selections Kat Hunter & KC Correllus, helped guide the Eagles to 12 shutouts and a 0.111 Goals Against Average during conference play. Powers' 12 shutouts in 2011 also earned her the all-time record for most career shutouts in Atlantic Sun history, a list that Switalski joins her protégé on at the fourth spot.
During the 2011 season, the Green and Blue allowed only one goal during conference play and finished on top of the A-Sun for the second straight year. The 2011 season also marked the first opportunity for FGCU to be eligible for NCAA and A-Sun postseason play. The Green and Blue took full advantage of this opportunity by winning the A-Sun Tournament and representing FGCU in the NCAA Tournament, both first-time accomplishments in school history.
In her first season, Switalski worked with Atlantic Sun All-Conference First-Team goalkeeper Stephanie Powers and All-Conference defenders Kat Hunter & KC Correllus en route to a league-leading 11 shutouts in 2010. Correllus also garnered A-Sun Defensive Player of the Year honors as the Eagles won their first A-Sun Regular Season title and boasted the conference's top Goals Against Average at 0.51. Under Switalski's watch, the Green and Blue also allowed only two goals during conference play and were one of three teams in the entire nation to give up less than 10 goals the entire season.
In addition to her role with the FGCU women's soccer program, Switalski also served as a staff coach for the Florida Olympic Development Program (ODP) and also coaches at the club level with the Lee County Strikers.
Prior to FGCU, Switalski spent three seasons as the assistant coach and recruiting coordinator at Lynn University in Boca Raton, Fla., where she assisted in all aspects of program management and served as Interim Head Coach during the 2009 spring season. Switalski was also responsible for recruiting the 2008 Sunshine State Conference Freshmen of the Year, Melissa Ortiz, who finished her freshmen campaign with 17 goals.
Switalski joined Lynn after a successful professional career in the Danish First Division and additionally served as an assistant coach at Austin Peay State University in Clarksville, Tenn. for two seasons. During her appointment, the Lady Govs starting goalkeeper posted a 1.30 Goals Against Average in 2007, good for fourth in the Ohio Valley Conference.
Prior to embarking on her coaching career, Switalski starred at Campbell University in Buies, N.C. A four-year letter-winner with the Lady Camels, she was a three-time Atlantic Sun All-Conference First-Team selection and was named the 2004 A-Sun Tournament MVP after posting shutouts against Gardner-Webb and UCF. She led Campbell to its first A-Sun title and initial appearance in the NCAA Women's Soccer Championship in 2004. She also holds school records for shutouts in a career (26) and season (9 in 2003 & 2004), and career saves (329) while finishing with the second lowest Goals Against Average in a career (1.11).
The Brecksville, Ohio, native graduated with a Bachelors of Science in exercise sciences from Campbell in 2005.
Erin Switalski's Collegiate Coaching Career
| | | | |
| --- | --- | --- | --- |
| Year | Team | Record | Postseason |
| 2015 | Tampa | 13-5-5 | NCAA South Region Final (2-1) |
| 2016 | Tampa | 6-8-2 | SSC Conference Quarterfinals |
| 2017 | Tampa | 9-6-3 | SSC Conference Championship |
| Totals | 2 seasons | 28-19-10 | One NCAA appearance (2-1) |


Assistant Coach
Brittan Spence
University of Tampa alum Brittan Spence is in her second season as the top assistant coach for her alma mater.

Spence was a member of the Spartans from 2008-11, where the four-year letter winner played in 83 career matches. She made an immediate impact, scoring six goals with seven assists as a freshman. She would conclude her Spartan career with 25 goals, 14 assists and eight game-winners.

She currently ranks in the program's top-10 in several career categories, including shots on goal, game-winning goals, penalty kicks made, shots, points, goals, games played, minutes played and assists.

The four-year starter and 2011 team captain received several accolades throughout her UT career, as she was a three-time member of the All South-Region Team (2008, 2009, 2011).

She led the team to two consecutive SSC Tournament Championships and the NCAA tournament in both 2010 and 2011. In 2010, the Spartans advanced to the NCAA South Region finals, as Spence was a member of an NCAA Quarterfinal team as a senior in 2011 after winning the NCAA South Regional.

Spence has also been honored as the Sunshine State Conference Offensive Player of the Week (2011), SSC Tournament Most Outstanding Player (2010), SSC All-Tournament Team (2010)
Prior to and during her UT career, Spence played club soccer for FC Delco Fury II and won five PA EPYSA State Championships from 2006-10 with FC Delco. She also led the team to the 2008, 2009 and 2010 Region One championships. Her team also finished third at nationals as she also helped the team to the Jefferson Cup and advanced to regional finals.

A graduate of William Tennent High School, Spence was a team captain and was named Player of the Year and led the team to a conference championship as a senior. She was named Suburban One All League Player of the Year, first-team all-league, first-team all-Continental Conference and was named to the Bucks County Courier Times Golden Team. She also ran track, placing in third place at the state track meet in the 4x100 meter relay and helped team to a third place overall finish.

Her coaching experience involves being a camp counselor for the Tampa Girls' Soccer Camps from 2008-2011. She also served as an assistant coach for Brandon FC for the U12, U13, U18 girls from 2011-2012. Spence then became an assistant coach for Tampa Bay United from 2013-2014. She was also a camp counselor at the UT Elite Soccer Camp from 2009-12.

A 2013 graduate of the University of Tampa, Spence received her BA in psychology-sports psychology and youth counseling.